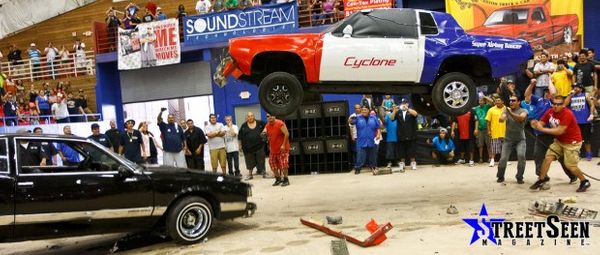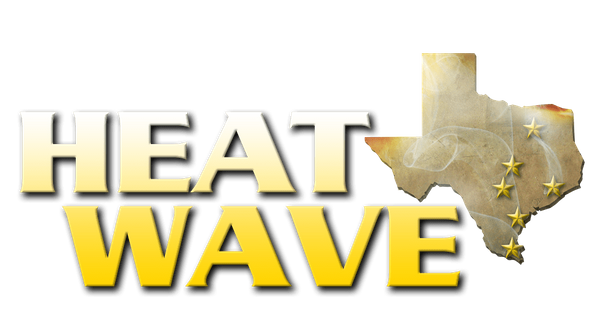 THE HEAT WAVE HAS BEEN PUTTING ON HYDRAULIC CONTESTS FOR OVER 25 YEARS NOW.
THE HYDRAULIC CONTEST IS HELD TYPICALLY ON SUNDAYS AND BRINGS OUT SOME OF THE BIGGEST PLAYERS IN TEXAS AND SURROUNDING STATES. THESE GUYS ARE SERIOUS ABOUT THERE HOPPERS AND DANCERS. THEY ARE COMPETING FOR THE MONEY AND BRAGGING RIGHTS. COME JOIN US FOR THE HOTTEST HYDRAULIC CONTEST IN TEXAS!
GENERAL SAFETY AND RULES:
Registration: All entries must completely and accurately fill-out registration forms and pay fees at designated area. Registration for all shows is done on the morning of the event. Registration closes one hour before the published show opening time.
Failure to comply with a Heat Wave judge's request at any time is unsportsmanlike conduct and grounds for disqualification. Unsportsmanlike conduct by entrant or any member of his crew in the registration, pit, staging area, show grounds or hopping arena is grounds for disqualification of contestant from that show and the following two (2) shows and entrant forfeits prize (if any) from that show. Unsportsmanlike conduct deemed as "cheating" by the judges shall be grounds for disqualification from two (2) additional shows, for a total of four shows.
All vehicles must "hop."
Heat Wave inspection teams and hopping officials/judges' decisions are made at their sole discretion and are final with respect to all matters relating to the Competition and these rules. Judges, and if applicable, Fire Marshall, shall also have final judgment on all safety issues, even if not stated in these Rules. Rules are subject to modification at the discretion of the judges for safety reasons or to preserve the integrity of the Competition. By entering the Competition, entrant agrees to be bound by these Rules and the decisions of the judges. Entrants are not permitted to protest any decision of official/judges.
All vehicles must have the same original frame throughout the year or must re-qualify as a new car. A vehicle's body may be replaced with exact same make and model.
Cars must be complete with all factory parts securely fastened, straight and unaltered including: body and quarter panels, fenders, bumpers, grille, headlights, roll pans, hood, trunk, doors, seats, etc. Rear seat and roof are optional. Plexi-glass windows and headlights, of suitable thickness, are acceptable replacement. A judge may issue a warning for any of these violations.
Only entry vehicle is allowed in pit area. Registration closes one hour before the published gate opening time. No unauthorized videotaping allowed in competition area, and it will NOT be used for competition purposes.
A vehicle may hop in as many classes and can hop and show.
All vehicles must have gas cap in place and tightened. Heat Wave officials can disqualify a vehicle at any time for safety reasons, including but not limited to fuel or excessive oil leakage or broken hose spraying oil upwards. Car and truck dancers and Radical Hoppers are allowed to use a secured fuel cell.
Unsafe rolling hopping outside the competition area before, during, or after the event could disqualify contestant from that show.
Vehicles must also have a complete operating OEM or larger cubic inch replacement engine. (No aluminum engine or heads allowed unless OE in that year and model,) radiator, water pump, hoses, fan, transmission, rear-end and operating brakes ("safety" reasons) except for radical dance classes. Engine mounts may be made of solid steel. (All vehicles must hop on 13- or 14- inch steel wire wheels- no mixed sizes.) Wheels that are 15 inch or larger are not permitted. Maximum tire size: 205/75×14 radial or bias-ply, which must have manufacturer marking of actual tire size on the sidewall. No mixed sizes or cross-reference replacements allowed period except for 5.20 or 5.60 only. All four tires must be same size radial ply or bias-ply, no mixed plys. Maximum tire height is 17 ½ inches. Maximum difference between front and back tire height is ½ inch. Tire measurements may be taken at inspection or in the pit.
Vehicles will be judged on speed, height, rhythm, style and movement, plus the following: to qualify for round, vehicle must perform a minimum of five (5) required moves: "kick" (hop) the front; "kick" (hop) the back; side-to-side, front-to-back (seesaw) and "pancake" (bunny hop.) Judging will be made by a team of three judges, using a 1-to 10 point system (10 being the best.) Total of judge's points determines score for the round (30 points being best.)
Switchman must stand outside the vehicle with door closed and have a hopping cord with switch panel (multiple switches.)
All street class vehicles must be driven into the arena (unless prohibited by facility.) After round, vehicle can be pushed out if inoperable.
Each round must consist of 60 seconds or continued suspension motion to qualify. Judges stopping clock for safety does not disqualify vehicle. If a vehicle breaks down within the 60 seconds of performing, the vehicle will be disqualified.
If a vehicle blows fitting, breaks a hose or springs a leak, it "may" be disqualified from round for "safety" reasons.
Cylinder and suspension leashes recommended.
Accumulator type pumps are allowed. Air or other gases in pump tanks are allowed. No other such accumulator devices are allowed. No compressed air or gas bottles/tanks are allowed in vehicles. Heat Wave judges and/or Fire Marshals have final judgment on all safety issues.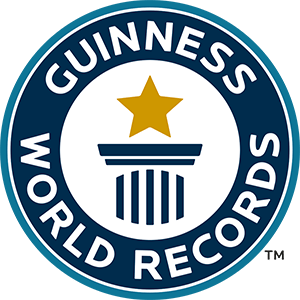 The highest lowrider hop, 163.25 in, was achieved by Robert White in Austin, Texas, by a converted school bus called the Honeybadger.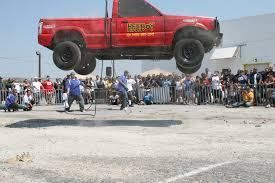 AIR DEMONSTRATION
No compressed gas/air bottles (welding bottles) allowed.
Entire set-up must be contained within vehicle and shall be covered and secured.
Judges, and if applicable, Fire Marshall shall also have final judgment on all safety issues whether or not the issue is covered in these Rules. Rules are subject to modification at the discretion of the judges for safety reasons.
Air noise mufflers are required.
Limit of three (3) entries per event. Entries must pre-register for each event, prior to event with Heat Wave office. Super Show Air Demonstration will be by invitation only.
Vehicles may either hop or dance. All demonstrations are limited to sixty (60) seconds.
No prize money or trophies will be awarded.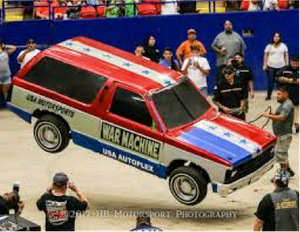 RADICAL HOP
Vehicle' lift height will be judged from the bottom of its measured front tire.
Any vehicle in Single Pump, Double Pump, or Radical Hop that does not pass inspection in their specific class, causing them to be placed in radical class, must comply with all rules in the radical class.
Only one (1) switch may be used during round. Rear suspension height may not be adjusted after round begins.
Four (4) pumps total, in any configuration: accumulator type pumps for the front are allowed; tanks must be no larger than 11.5" x6" with ¼" maximum thickness for steel tanks. Rear pumps must have standard size (maximum size 9×5 3/4 ") and thickness (maximum 1/16") tanks. No square tanks allowed. Entire hydraulic setup including batteries must be inside the trunk or no higher than a car trunk for station wagons.
Limit on batteries: fourteen (14. All batteries must be contained within the volume of the bed or trunk, visible, attached to car and connected. Limit on batter size/weight: Group 31 (or 31 stud); 70 pounds each. Limit on base and rack materials.