Texas Showdown Freedom Ralley
TEXAS SHOWDOWN FREEDOM RALLY January 2024 Date TBA will be held on a 1000 acre piece of property called, Apache Pass in Downtown Texas, TX that is located near Thorndale and Rockdale, Tx. We would like everyone in the car show scene to come out to have some fun with us and hang out. There will be a Chili Cook-Off, tent and RV camping, Live music, Events, Fun games, Campfires, and of course an optional Truck and Car show area for those who want to be judged. There is a Steakhouse and Icehouse just steps from the show grounds. Also, there is an Indiana Jones style suspension bridge, called the Sky Bridge, that crosses the San Gabriel; it is the largest of its kind in North America. Come on out and Rally your Freedom with us! Ride with your Flags flying and get ready for some good old fashioned Texas good times!!! There will be good food vendors and companies displaying and selling cool products all weekend.
As we all know COVID-19 is still part of our lives so take the necessary action to protect your self and others around you. This show is outdoors and we want everyone to be safe and to be mindful of each other and their families.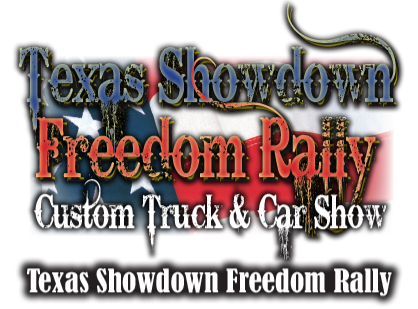 JAN 20th-22nd, 2023
Location: Apache Pass Event Center
9112 N. Farm to Market Road 908
Rockdale, TX 76567
TICKETS & REGISTRATION MAY ALSO BE PURCHASED AT THE GATE AT THE SHOW:
If you are interested in registering a vehicle we highly recommend you PRE-REGISTER online its only $45. Includes two weekend passes.
Day pass $15
3-Day Pass $20
Everyone is welcome at this event!!
VENDOR SETUP TIMES
Become A Sponsor Or Vendor Call Us At 512-252-0283
CHILI COOKOFF RULES
Traditional Pepper Chili is defined as any kind of meat or combination of meats, cooked with chili peppers, spices and other ingredients, with the exception of pasta, which is strictly forbidden. Beans may be used in competition chili. Competition chili must be made with one or a combination of beef, pork or turkey meat only (no venison). Toppings of cheese, onion, cilantro, or others may be added for presentation.
Each participant should make at least 2-3 gallons of chili to make sure you don't run out to soon. The more the better. When making your chili here are some suggestions: Aroma: The chili should smell good (this also indicates what is in store when tasted); Consistency: The chili must have a good ratio between sauce and meat (it should not be dry, watery, grainy, lumpy, or greasy); Taste: Taste, above all else is the most important factor (the taste should consist of the combination of the meat, spices, etc.
There will be 4 categories: Beans, No Beans, Mild, and Spicy.
Contestants may enter more than one batch of chili, and may enter as a team or individually. The 1st entry fee will be $50 each additional entry will be $15.00 per chili entered.
Each participant's chili will be distributed to the event guests. Participants and Spectators will receive 15 cups, 2 spoons, and 15 tickets with their entrance fee
Judging will be done by event guest, each person who buys tickets will put a ticket in a box at each table they think is the best. The chili with the most tickets wins.
All contestants must provide their own heating apparatus, such as a hot plate, crockpot, camping stove, or canned fuel.